Convert your existing pump to run with free solar energy
---

---
Green Revolution Ltd represent SunTechDrive in the Turks and Caicos Islands as their Sales and Service Partner.
SunTechDrive is leading the effort to bring affordable solar power to new applications.
SunTechDrive is a renewable energy high tech company that helps solve problems for farms, international villages, and off-grid cabins. They help customers harness the power of clean, distributed energy to build a more sustainable energy future. 
Power Blender
Blends energy between a solar array and the power grid
---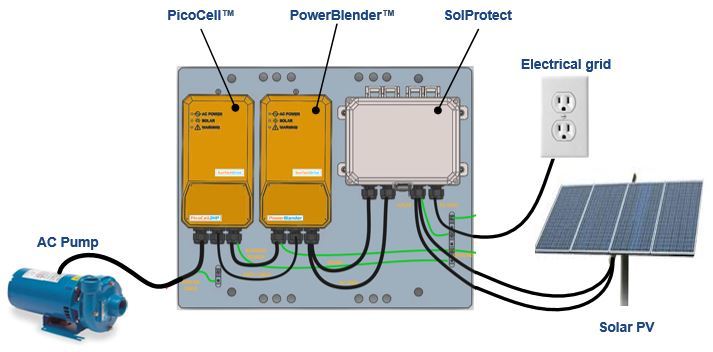 ---
The Power Blender is ideally suited for applications that require 24/7 or some night time operation, particularly in areas with high power costs. The combination of the PicoCell controller and the optional Power Blender represents a very cost effective way to supplement solar power with controllable night time operation without the expense of adding a bank of batteries.
If there is full solar irradiance, the PicoCell and the Power Blender will draw all power from the PV array. As cloud cover or impending darkness reduce the level of solar irradiance, the system makes up the difference by drawing from the grid. As full darkness descends the system draws all of its power from the grid. In high energy cost areas, this allows for both power firming during the day and full nighttime operation while consuming as little power from the grid as possible.
As can be seen in the diagram below the majority of the day time operation is effectively offloaded from the grid. This is particularly impactful in areas with high demand charges or time of use pricing. Typical applications include swimming pool pumps, solar decorative fountains, aerators and waste water treatment systems.
Run installed or new AC motot/pump/compressor with free solar power
Intelligently blends energy input from solar PV and power grid
Maintains full power 24/7 while minimizing power costs
Simple installation, weather proof, durable, and automatic
Universal compatibility – use single/three phase, 50 or 60Hz, 120Vac or 230Vac
No circuit panel installation required, plugs in as simple outlet load
Intelligent design automatically improves operation and life of motor
Maintains full variable frequency drive (VFD) operation while blending inputs
Corrects poor quality grid power/voltage
Patented and Made in the USA
Blended Mode – In this mode the system utilizes as much power as is available from the solar array at any instant, supplementing as needed from the power grid as clouds come over or day fades to night.
Solar Only Mode – By activating the switch to manually override the use of the grid power, the system can be easily put into a mode where it will not draw power from the grid. This is typically used to optimize the cost of operation based on different seasonal needs.
Timed Grid Mode – Sometimes it is only necessary to run a device for certain times at night, perhaps until a facility closes or periodically during the night to drive devices like aerators or filters. This mode provides complete flexibility in the scheduling of the use of grid power.
Picocell 2HP
Off Grid Solar Pump Controller
---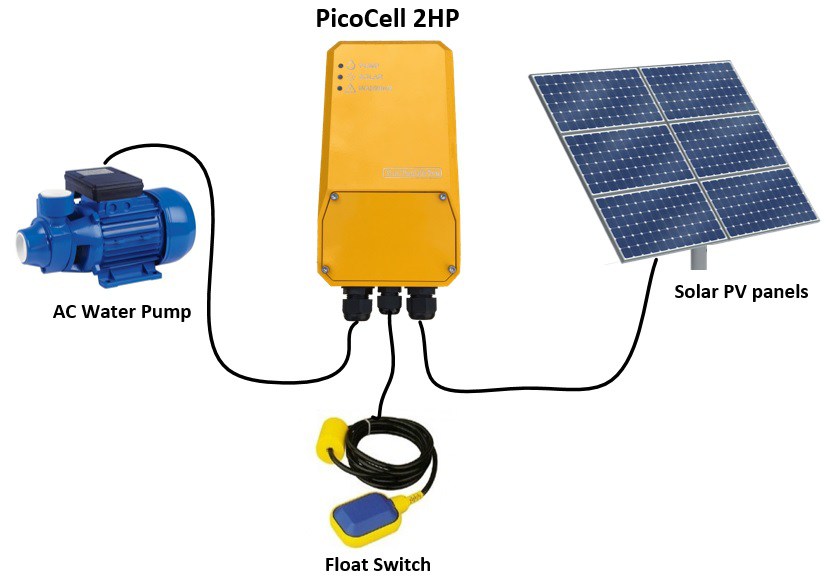 ---
PicoCell replaces traditional electromagnetic design concepts with high voltage silicon and patented adaptive firmware. This drives a dramatic reduction in size and complexity. One small device now incorporates and integrates the functionality of an inverter, VFD, MPPT controller, phase initiator and voltage boost in a form factor the size of a tissue box.
One universal SKU can power any motor, pump, compressor or other load regardless of whether it is single or three phase AC, 50 or 60Hz, 120 or 230VAC. Designed to handle remote off-grid installations, the all aluminum chassis is IP65 rated for harsh outdoor environments and can operate in high temperatures, humidity and corrosive environments.
PicoCell supports up to 2 digital and 4 analog sensor inputs allowing for a variety of sophisticated installation scenarios. Optional WiFi, Cellular, and LORA communication modules facilitate ease of integration for IoT and data analytics applications.
Run installed or new AC motor/pump/compressor with free solar power
Smart technology that is easy to use and can provide long term cost savings
Universal controller-single/three phase, 50/60Hz, 120V/230Vac
Small sized box, simple hook up, weather proof, durable and automatic
Maximizes solar panel efficiency allowing fewer panels to supply the needed power
Changes a 1 or 2 speed motor/pump into a soft start, VFD (Variable Frequency Drive)
WiFi, Cellular and LoRa communication modules are optional
An affordable solar power project addition to homes, businesses and community
Patented and Made in the USA